S-64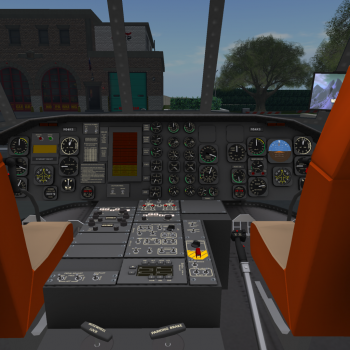 ---
| | |
| --- | --- |
| Role | Heavy Lift |
| Manufacturer | Sikorsky |
| RL First Flight | May 9, 1962. |
| RL Introduction | ? |
| SL First Flight | 2016 |
| SL Introduction | December 7, 2016 |
| GTFO Code | SKYCRANE |
This virtual S-64 Aircrane is a reproduction of what was originally the Sikorsky S-64 Skycrane, now known as the Erickson S-64 Aircrane. It is a heavy-lift helicopter that employs two 4,050 shaft horsepower Pratt & Whitney JFTD12A engines. A single-point hoist system can be used with loads up to 20,000 pounds static (15,000 pounds for hydraulic raising/lower). Hard points on the sides can be used to attach various mission-specific pods. The first S-64 prototype was flown on May 9, 1962. The type certificate and manufacturing rights were later purchased by Erickson in 1992. This virtual S-64 has four seating positions for pilot, co-pilot, aft pilot (winch operator) and a jump seat.
Advanced cockpit with over 40 functioning switches
Multi-tank fuel system
Working hydraulic system
Attachable/Detachable Pod System
Pod development kit to make custom pods
Working Hoist
Free upgrades
See About the S-64 for more details on the advanced systems of the S-64.
Master Contents
Video Tutorials
---
| | | |
| --- | --- | --- |
| | | |
| Start-Up/Shutdown | Flying the S64 | Crane Operation |
Credits
---
Sounds - Lorin Tone
Flight Testing and Design Assistance - Tsukino Usagi (tsukino.firethorn)
Design, Mesh, Textures and Scripting - Kelly Shergood
Links
---