H-160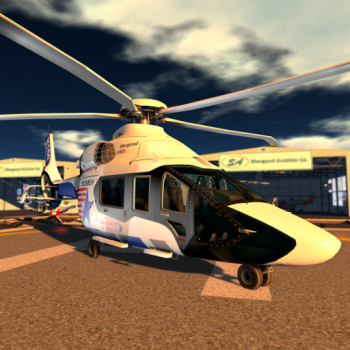 ---
| | |
| --- | --- |
| Role | Multi-Pupos |
| Manufacturer | Airbus |
| RL First Flight | June, 13 2015 |
| RL Introduction | 2020 |
| SL First Flight | 2019 |
| SL Introduction | 2019 |
| GTFO Code | KSH160 |
Shergood Aviation and Virtual SYL Design are proud to bring you the virtual H160, a medium utility helicopter. The H160 is based on the Airbus H160 expected to ship in 2019. Features:
Working glass cockpit
Working flight computer integrated with autopilot
HSI with glideslope
ACAS (Aircraft Collision Avoidance System)
TAWS (Terrain Awareness and Warning System)
Aircraft event log system
Retractable gear

Working electrical system with rechargeable battery.
Exterior and interior lighting (instrumentation, navigation, landing, and taxi lights).
Refueling system with fuel quantity control
Realistic sounds from an actual H-160
Fully functioning dual controls.
Paint kit system for user customizable painting.
Master Contents
Versions
---
Utility Version
The Utility version of the H-160 comes equipped with 9 passenger seats in the main cabin area of the vehicle. These seats may be selectively unlinked from the aircraft for pure cargo use.
EMS Version
The EMS version of the H-160 comes equipped with a dual stretcher system, a winch system and various medical equipment. The stretchers can be unloaded from the aircraft, used to load patients and be pushed around the ground going over any obstacles. The stretchers remain linked to the aircraft so can be used on no-rez areas. The winch system includes a rescue basket, a stokes basket and a harness. The harness and stokes basket can be used in dual mode. In additional a rope can be used by rescue personnel to quickly rappel to the surface.
Medical equipment includes an oxygen system, ventilators, IVs and a working cardiac monitor with defibrillator.
VIP Version
The VIP version is equipped with a more spacious and luxurious interior for executive transport. Key features include a drink system and video entertainment system for passengers.
Video Tutorials
---
| | | |
| --- | --- | --- |
| | | |
| Preflight | Start-Up/Shutdown | Programming FMS/GPS |
| | | |
| Using GPS | Painting | EMS Features |
Credits
---
Sounds - Lorin Tone
Mesh and Textures - Sylvira Halcyon
Design and Testing - Tsukino Usagi (tsukino.firethorn)
Design and Scripting - Kelly Shergood
Links
---