Enstrom 280C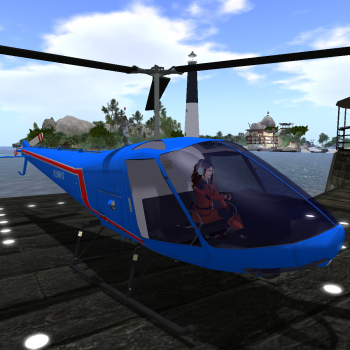 ---
| | |
| --- | --- |
| Role | Observation, Training |
| Manufacturer | Enstrom |
| RL First Flight | 1974 |
| RL Introduction | 1975 |
| SL First Flight | 2015 |
| SL Introduction | November 15, 2015 |
| GTFO Code | ENS280 |
The Enstrom 280C "Shark" is one of many variants of the original F-28 design introduced in 1965. The 280C, introduced in 1975, features more power, a turbocharger and an aerodynamically refined design. It is powered by a Lycoming HIO-360-F1AD producing 225HP. It can seat two people when the right seat controls are installed, or 3 people when the controls are removed. Unlike many helicopters, the pilot sits in the left in the Enstrom due to the removable controls. The SA-FE (Shergood Aviation Flight Engine) engine driving this virtual reproduction was created by an RL helicopter pilot and designed to fly like an RL helicopter. The engine is purely physics based and features independent control of cyclic, collective, throttle and anti-torque pedals enabling true power-off autorotations.
Features
Working electrical system with rechargeable battery.
Exterior lighting (instrumentation, navigation, landing, and taxi lights).
Refueling system with fuel quantity control
Realistic sounds from an actual Enstrom 280 helicopter
Fully functioning dual controls.
Paint kit system for user customizable painting.

Unique N-number and serial number assigned to each aircraft.
HOBBS meter tracks total time on aircraft.
Access control system: owner only, guest or registered pilots.
Passenger control - enable/disable use of passenger seat, or kick passenger.
Dust/water particle effects when hovering near a surface.
Many opening doors and panels with click-able components.
Simulated damage (collision).
Master Contents
Credits
---
Sounds - Lorin Tone
White, Black, Red, Blue, Pink and Army paints - Kitty Schrödinger (schrodinger.turbo)
Navy paint - pascal kira
Testing - Lanelle Saunders and Alexander (aleksandr.string)
Design, Mesh, Textures and Scripting - Kelly Shergood
Links
---