EC-135/VIP Supplement
1

Introduction
The VIP version of the EC-135 features four passenger seats, two rear facing directly behind the pilot seats and two forward facing in the rear of the passenger cabin. A notecard configurable media system folds down between the two rear seats, a Champaign server is located between the front two seats, and a luggage system allows luggage to be loaded, unloaded and pulled.
2

Media System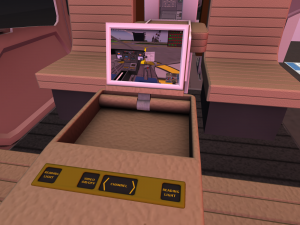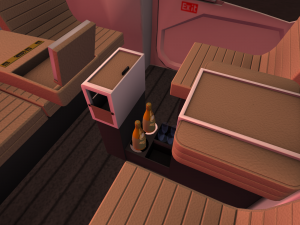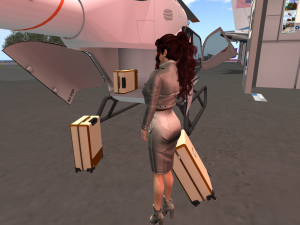 The media system (see Figure 1) is located in a fold down arm rest between the two rear seats. The display can be folded up once the arm rest has been folded down. In addition to the monitor is a control panel. The control panel contains buttons to turn the reading lights on/off on either side, to turn the media system on/off, and to change the channel. The media system and reading lights require main power in the helicopter to be on and operate off DC bus #2.
The media channels are defined in a notecard named "*channels" in the helicopter object. Each line in the notecard defines the URL for one channel, numbered in the order in which the appear in the notecard.
When defining channels from YouTube, the best results are obtained when using the embeddable form of the URL. Normally this can be done with minor modification to the regular URL. For example, if the regular URL is https://www.youtube.com/watch?v=xY4YrFk_PI8 the embedded form of the URL would be https://www.youtube.com/embed/xY4YrFk_PI8. Note that due to license restrictions, not all YouTube videos have an embeddable form.
3

Champaign Storage System
A Champaign cooler (see Figure 2) is located between the forward two passenger seats. Clicking on the cooler, will cause it to slide forward providing access to two bottles of Champaign and four glasses. The bottles and glasses can be clicked by passengers to get a wearable glass of Champaign.
4

Luggage System
The luggage compartment (see Figure 3) is located behind the passenger cabin. Access to the compartment is through the two rear doors. The EC-135 uses a linked luggage system allowing bags to be unloaded and pulled by ground personnel. The bag menu is accessed by clicking on a bag and includes the following functions:
| Button | Description | Condition |
| --- | --- | --- |
| Unload | Take bag out of helicopter. | Rear doors open |
| Load | Load bag into helicopter. | Rear doors open |
| Handle Up | Raise handle on bag | Bag out of aircraft |
| Handle Down | Lower handle on bag | Bag out of aircraft |
| Pull | Pull the bag | Bag out of aircraft |
| Let Go | Stop pulling the bag | Bag out of aircraft |
Each of the bags is independently controllable and has its own menu. Bags may only be manipulated outside the helicopter while the helicopter is non-physical.