EC-135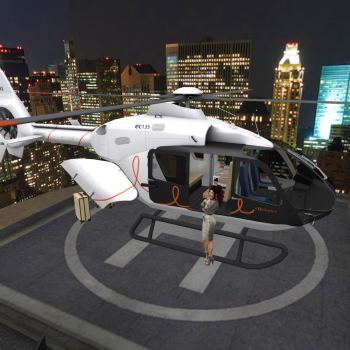 ---
| | |
| --- | --- |
| Role | Multi-Purpose |
| Manufacturer | Eurocopter |
| RL First Flight | February 15, 1994 |
| RL Introduction | 1996 |
| SL First Flight | 2017 |
| SL Introduction | April 24, 2017 |
| GTFO Code | EC135 |
he Shergood EC-135, is a reproduction of the Eurocopter EC-135 (also known as the Airbus H135), a twin-engine turbine helicopter with FADEC (Full Authority Digital Engine Control). The EC-135 first entered service in 1996 and is now a popular aircraft for air ambulance, executive transport and police applications.
The cockpit of the Shergood EC-135 features a mix of fully animated digital panels including a PFD and backup analog instruments. Nearly 40 of the switches and controls are fully functional affecting aircraft systems. Engines can be run in automatic or manual mode, and a training mode for practicing single engine operations is also supported.
The SA-FE (Shergood Aviation Flight Engine) engine driving this virtual reproduction was created by an RL helicopter pilot and designed to fly like an RL helicopter. The engine is purely physics based and features independent control of cyclic, collective, throttle and anti-torque pedals enabling true power-off autorotations.
Master Contents
See Advanced Transponder and GPS HUD for documentation of the GPS system.
Versions
---
EMS Version
The air ambulance version of the Shergood EC135 is equipped with three rear crew seats, a stretcher for the patient and equipment to care for your patient. A linked stretcher system allows you to move the stretcher out of the aircraft even in no-rez zones. Obstacle detection in the stretcher lets you move the stretcher up ramps and over obstacles.
Air ambulance features include:
Linked stretcher system with up and down positions
Oxygen mask
Separate ventilator with sounds
IV bag and delivery system
EKG monitor with four different heart rhythms and integrated defibrillator.
High resolution textures and detailed mesh for medical bags, oxygen tanks, etc.
VIP Version
The VIP version of the Shergood EC135 is designed for luxury transportation. The perfect helicopter for transfer of busy business executives, celebrities and others who desire to travel in style. Onboard luxuries include media system, and a refrigerated compartment for Champaign to go with your flight. Seats up to 4 VIP passengers plus pilot and copilot.
VIP features include:
Luxury interior.
Linked baggage system with three bags that can be independently loaded, unloaded and pulled by up to three avatars at once.
Fold down video screen lets your passengers relax in flight. Channels can be configured by Notecard.
Champaign cooler with Champaign glass giver.
Rear seat reading lights.
Unique skid design.
Police Version
The police version of the Shergood EC135 is designed for advanced tactical police use. It is the perfect vehicle from everything from routine traffic enforcement, to riot suppression, to SWAT missions.
Police Features Include:
Rappelling System
Tactical canister deployment with smoke, tear gas and flashbang canisters.
Steerable nightsun
Steerable FLIR
GPS display in operator station
Video Tutorials
---
| | | |
| --- | --- | --- |
| | | |
| Start-Up/Shutdown | Flight | Police Model |
Credits
---
Sounds - Lorin Tone
Design and Testing - Tsukino Usagi (tsukino.firethorn)
Design, Mesh, Textures and Scripting - Kelly Shergood
Links
---