Chinook CH-47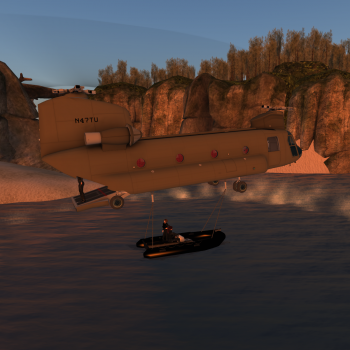 ---
| | |
| --- | --- |
| Role | Heavy-lift Transport |
| Manufacturer | Boeing Defense |
| RL First Flight | 21 September 1961 |
| RL Introduction | 1962 |
| SL First Flight | October 2017 |
| SL Introduction | 03 May 2018 |
| GTFO Code | KSCHINOOK |
This virtual CH-47D is a reproduction of the Boeing Chinook tandem rotor heavy-lift helicopter. Work on the Chinook began by Vertol in 1957 with the first helicopters entering service in 1962. With a tripple hook cargo system, the CH-47D can carry external payloads up to 26,000 pounds. The CH-47D is also ideal for carrying cargo or personel.
This virtual CH-47 from Shergood Aviation has the most advanced systems model of any helicopter in Second Life. Features include:
Compatible with GTFO
OnBoard system allows crew to walk around cabin in flight
Fully functioning cockpit
Nearly 100 functioning switches/knobs
Start sequence based on (and nearly identical to) the RL Chinook
Six fuel tanks with both gravity and single-point refueling systems
Five transmission systems with independent fluid tracking and monitoring instruments

Three separate hydraulic systems with independent fluid tracking and monitoring instruments
Functioning maintenance panel
Three hook external cargo system
Rescue hoist system
Simulated failures
AFCS (Autopilot)
GPS Navigation
Instrument Approaches
Master Contents
---
Video Tutorials
---
| | | | |
| --- | --- | --- | --- |
| | | | |
| Preflight | Start-Up/Shutdown | Transponder & GPS | Cargo/Hoist |
Known Bugs
---
Selecting "Set All" in @Realism will cause fluids to burn very quickly. Use "Clear All" to fix the issue and select the desired realism options individually.
Credits
---
Aircraft research, model parameter tuning, SL aircraft feature design and curation, aircraft testing - Tsukino Usagi
Sounds - Lorin Tone
Tutorial Videos - JC Pax
Mesh, Textures, Scripting - Kelly Shergood
Links
---