Brantly B2-B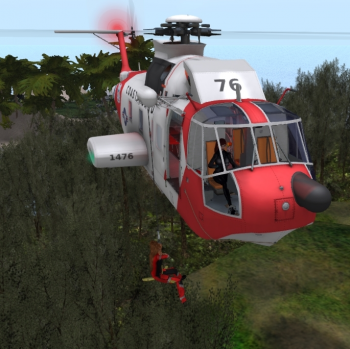 ---
| | |
| --- | --- |
| Role | Observation, Training |
| Manufacturer | Brantly |
| RL First Flight | 1952 |
| RL Introduction | 1958 |
| SL First Flight | 2012 |
| SL Introduction | March 1, 2015 |
| GTFO Code | -- |
This Shergood B2-B is an SL reproduction of the classic Brantly B2-B helicopter. The Brantly B2 was originally introduced in the late 1950s and was later upgraded to the B2-A and then the B2-B. It uses a 180hp fuel-injected four cylinder horizontally opposed Lycoming IVO-360 engine, a vertical variant of the engine commonly found in the Cessna 172. The SA-FE (Shergood Aviation Flight Engine) engine driving this virtual reproduction is the most advanced and realistic in SL. It was designed and created by an RL helicopter pilot. The engine is purely physics based and features independent control of cyclic, collective, throttle and anti-torque pedals enabling true power-off autorotations. Features include:
Working yaw string can be used as reference to coordinate cyclic and pedal inputs.
Realistic sounds from an actual Brantly B2-B helicopter
Advanced lighting effects
Accessible engine compartment
Detailed mesh design
Passenger control - enable/disable use of passenger seat, or kick passenger
Free upgrades
WARNING - This helicopter is designed for expert/advanced SL pilots seeking a realistic flight experience requiring practice and skill to master.